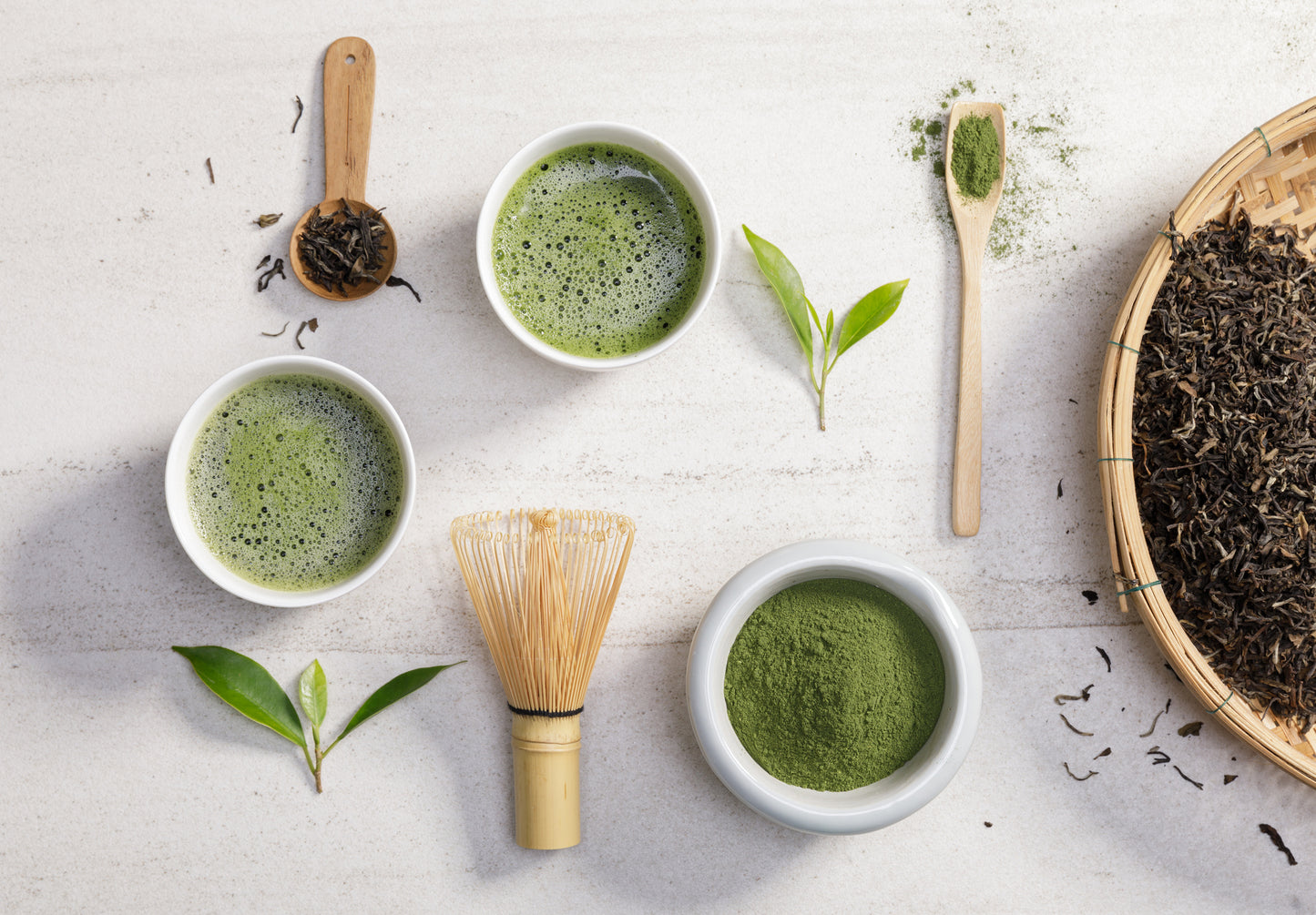 Herbal tea has been something that's been enjoyed by mankind for ages, and with all the different varieties available, there's a flavor and style of tea for everyone. One type of tea that's become really popular in recent years is matcha. Its popularity seemed to flourish overnight, and you can get some form of a matcha beverage at almost every coffee and tea shop these days. However, many people don't actually know what matcha is and are only really familiar with its bright green color. 
Below, we'll go over what matcha is, what green tea is, and in what ways they're both similar and different.
What is Matcha?
Like all teas, Matcha comes from the tea plant Camellia sinensis and is a high-grade green tea that's ground down into a powder. In fact, matcha actually means 'ground tea' in Japanese. While the origin of all teas can be traced back to China and Emperor Shen Nung, it was actually the Japanese that popularized matcha. When the Chinese discovered that tea leaves could be steeped, that become their preferred method of preparation.
The tea leaves that are cultivated specifically for matcha are primarily grown in two different regions of Japan: Nishio in the Aichi prefecture and in Uji in Kyoto. Once the leaves are ground down, the fine green powder is added to hot water and whisked, as opposed to steeped like loose-leaf tea, and creates a frothy drink. The origins of matcha are actually ceremonial, but today, it's consumed world-wide as a popular beverage.
What is Green Tea?
Green tea is one of the purest forms of tea. It's made from Camellia sinensis leaves and buds that haven't been aged and oxidized in the same way that other teas, like oolong and black tea, are. For this reason, green tea is the most antioxidant rich tea that you can drink. Green tea originated in China, and its use as a beverage can be dated back as early as 618 AD. While all tea comes from the same plant species, there are different types of green tea and it's grown all over the world, including China, Japan, Taiwan, Sri Lanka, Bangladesh, New Zealand, South America, South Africa, Hawaii, and South Carolina.
How are Matcha and Green Tea Similar?
Green tea and matcha are similar because they come from the same plant, they have similar origin stories, they're superfoods, and their nutritional profiles provide countless benefits. That's where their similarities end, however. Matcha and green tea have many more differences.
How are Matcha and Green Tea Different?
The ways in which the teas are different are:
Growth:
Green tea is grown directly in the sun while matcha is shade grown. This is a labor-intensive process where the tea bushes are kept out of direct sunlight and the amount of light they get is controlled, which increases the amount of chlorophyll the plants receive. As a result, matcha is a vibrant green color and green tea is an earthy brownish green.
Taste:
Green tea tastes light and refreshing and can have earthy and grassy flavor notes. It can also be considered a bit bitter too. Matcha has a rich flavor that's sweeter.
Preparation:
Both teas can be consumed either hot or cold. Green tea is steeped into water for about three minutes whereas matcha is whisked or shaken into water.
Caffeine:
Matcha has a significantly higher concentration of caffeine than green tea does. Green tea has 35 milligrams of caffeine and matcha has 280 milligrams. This makes green tea a much better option for those who are more sensitive to caffeine.
Regardless of which type of tea you prefer, there are so many benefits to consuming tea daily, especially when you're drinking quality tea. The green tea that we have at Revolution Tea is truly, well, revolutionary. To learn more about our teas, the 19 countries that we get our tea from, and to order your own tea, contact us today.