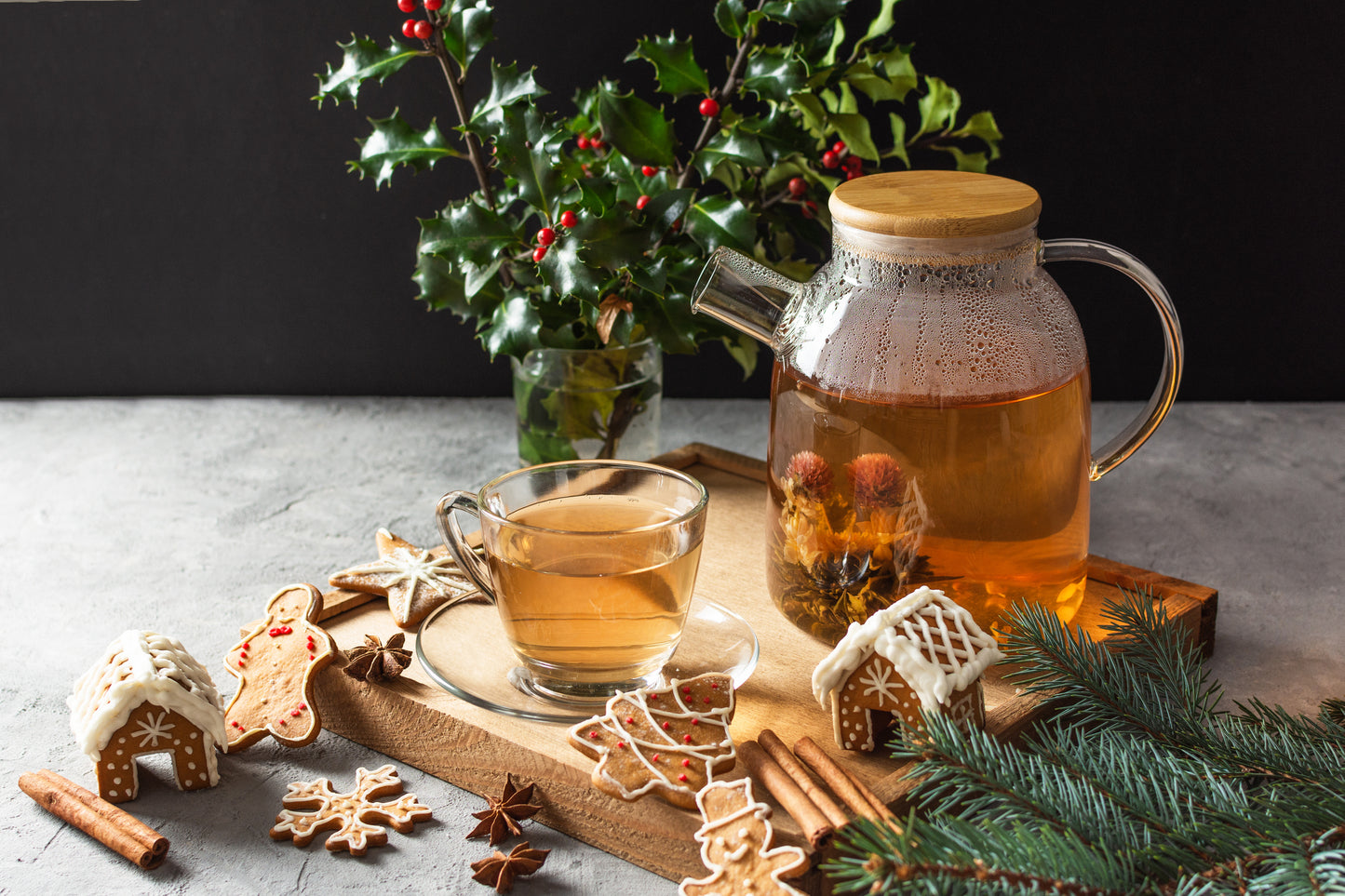 The holiday season is full of delicious food, great company, and flavorful drinks. When picking your drinks for the holidays, you will want to consider what will pair well with your meal. While many holiday chefs might try to pair a certain wine with the perfect food, this year, we have a few suggestions for the perfect tea to pair with your feast. Tea tends to pair well with foods that have starch, butter, or sugary elements to them, making it the perfect drink to pair with a well-cooked holiday meal. Here are a few teas that we think will be a hit this holiday!
Raspberry Black Tea
Raspberry Black Tea is a delicious tea that pairs well with most holiday foods. We like pairing this tea with both sweet and savory recipes because of its unique flavor. Raspberry is found in many holiday dishes, from sides to desserts, and this tea brings out those flavors perfectly. Our Raspberry Black Tea is a fan favorite because of its intoxicating herbal aroma that tastes just as good as it smells. With 40mg of caffeine, this is a great option for those needing to recharge and get ready for a holiday party.
Honeybush Tea
Honeybush Caramel Tea is unique flavor perfect for any holiday dessert. This unique tea is made with rooibos, a South African herb that gives this tea a unique caramel flavor. This caramel flavor pairs perfectly with any sweet dish that will be served this holiday season. The distinct caramel flavoring brings out the unique flavors found in your favorite desserts and makes each dish that much better. This tea also has more antioxidants than green tea and offers a soothing effect for those finishing up a large holiday meal. Our Honeybush Tea is caffeine free, so there is no need to worry about this tea keeping you restless all night long. Whether you are enjoying an exquisite pie, a tasty cobbler, sweet chocolate treat, or another holiday classic, Revolution Tea's Honeybush Tea will pair perfectly.
Southern Mint
Southern Mint Herbal Tea is a classic tea with a southern twist and is a great for drinking right after a holiday meal. This tea is great for digestion, making it the perfect conclusion to a lavish dinner. Whether you ate too much turkey or filled up on sides, the holidays always seem to come with eating a little too much food, and with this tea to help you digest, that's okay! This flavorful herbal drink is made from whole USA mint leaves and offers a refreshing flavor that can't be put into words. With its soothing properties, Revolution Tea's Southern Mint can help combat headaches and aid in digestion, making it the perfect tea to pair with your holiday meal this year.
If you are looking for the perfect tea for your holiday guests, check out the Revolution Tea collection. Any one of our fantastic teas will complement your dinner. We offer a wide selection of Black Tea, Green Tea, White Tea, Oolong Tea, Herbal Tea, and more; all served in our mesh infuser tea bags. Our unique tea bags allow for the perfect steep giving you authentic taste and clarity in every pot. Taste the difference with Revolution Tea and buy tea online today!