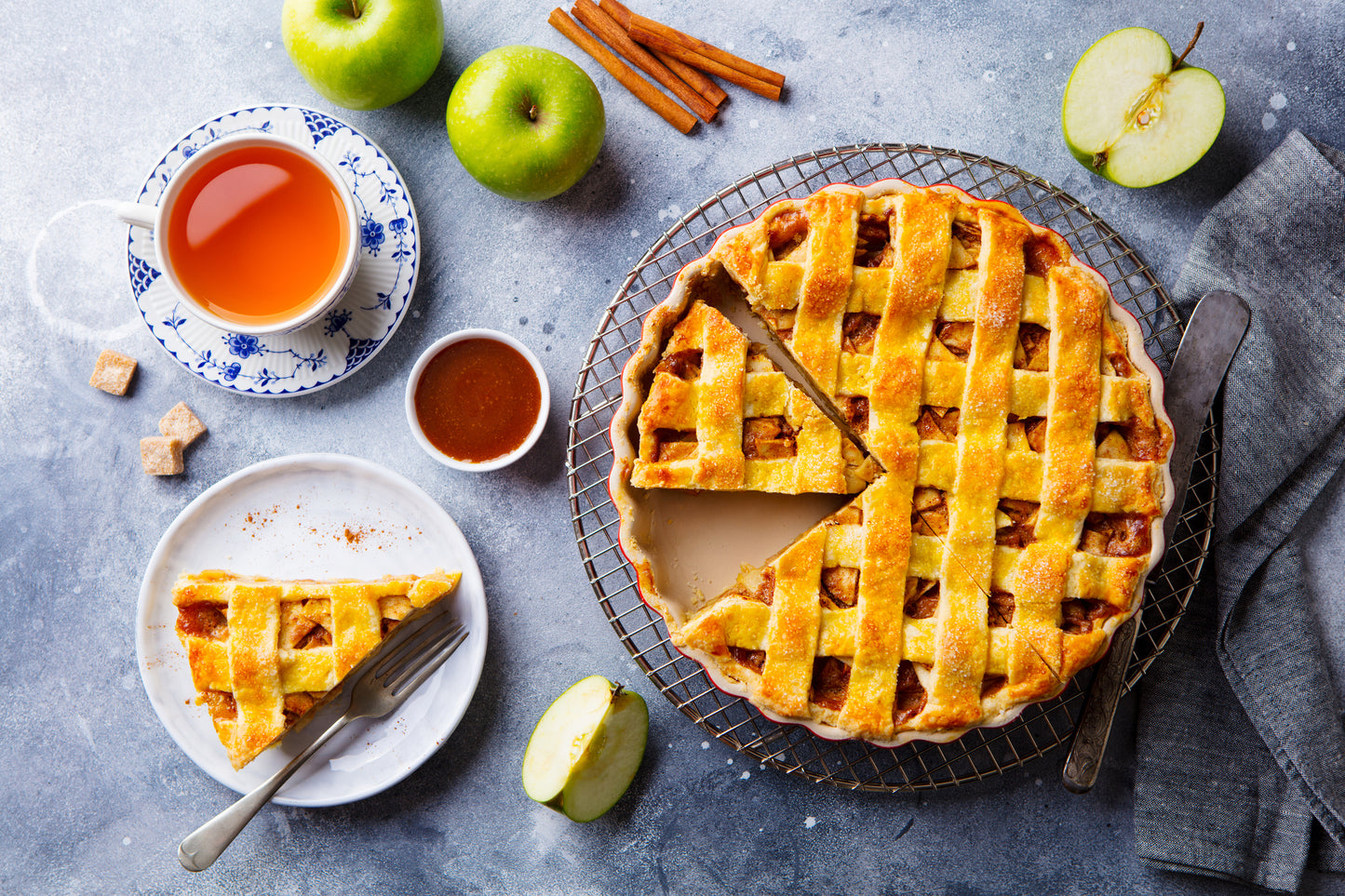 Enjoy An Unforgettable Flavor Experience!
Looking for some information about holiday tea pairings? You've come to the right place! At Revolution Tea, we love tea – and we love the winter holidays! And together, tea and common holiday treats can create some incredible flavor pairings.
If you want to know the right tea pairing with desserts to provide for your guests this holiday season, read on. We'll give you suggestions for your holiday tea pairing menu, discuss different types of tea that are best for certain foods and treats, and so much more.
What is A Tea Pairing and Why Is It Important?
Tea pairings, just like wine pairings, are specific flavors or types of tea that "work well" with specific holiday desserts, snacks, and sides. Just like white wine goes well with fish and red wine goes well with a steak, different types of tea are more appropriate for accompanying different dishes.
Green tea pairings, for example, work well with spicy and fresh flavors like cinnamon and peppermint, while black tea is better with nutty, rich, savory flavors.
While you're always free to experiment with your own tea pairings – and we highly recommend that you do– we've put together some basic information about common holiday tea pairings below, so feel inspired! This guide covers green, black, oolong, herbal, and white tea, so no matter what you have in the pantry, you can make a delicious combination!
Green Tea
Green tea is made from the same leaf as black tea, but it's not oxidized. This leads to a mild flavor and a more green-gold color. Green tea is fruity and has a more fresh, "grassy" flavor compared to black tea. It has about 30 mg of caffeine per cup.
We recommend green tea pairing with minty and cinnamon-based desserts. Try green tea with cinnamon rolls for breakfast, with peppermint cookies for a snack, or with cinnamon cobbler as a luxurious dessert! Shop our selection of green tea now to get started.
Black Tea
Black tea is made from the Camellia sinensis plant, but unlike green tea, it's oxidized to bring out different flavors and preserve the tea leaves. It has a rich, red-brown color, and can have a savory or sweet flavor, depending on how it was processed. It has a relatively high caffeine content of about 47 mg per cup.
The dark, more robust flavor of black tea pairs very well with meats and nutty flavors. Try it with a slice of pecan pie, bread pudding, or a hearty meal like a pot pie or shepherd's pie. Grab a few different types of black tea from Revolution Tea now and try out your own pairings!
Oolong Tea
Oolong tea is a type of black tea that's specially dried and smoked to oxidize the leaves and create a unique flavor profile. It was first made in China in the 16th century. This tea has a very bold and smoky flavor. It tends to have about 30 mg of caffeine per cup, which is lower than black tea.
Its unique taste pairs very well with savory charcuterie boards. Oolong tea is also a good choice with sweet and tangy desserts like fruitcake, cranberry cheesecake, and apple pie. Shop our selection of oolong teas now to try one of these combinations for yourself!
White Tea
White tea, just like the previous types of tea, is made from the Camellia sinensis plant. The main difference is that it's harvested very early when the leaves are tender and green. It's typically plucked right before the buds and leaves open completely. White tea is very rich in antioxidants, and contains a low amount of caffeine, usually around 6-55 mg per cup.
It has a soft, light, and subtle taste that goes well with other simple flavors. A few of our top recommended pairings include sugar cookies and shortbread cookies, or sour cream pound cake. The buttery taste of these treats is an excellent combination with white tea. Shop white tea now, and try these ideas today!
Herbal Tea
Herbal tea is any kind of tea that's made primarily from a non-tea herb or ingredient, such as mint, chamomile, or lemon. There are a tremendous variety of herbal teas, and no two are the same. It's also common for herbal teas to be blended together from a number of different ingredients. This type of tea typically contains 0mg caffeine.
Typically, our herbal teas are sweet and aromatic, and provide lightness and a delicious flavor that can pair well with bitter and tart fruits like cranberries or granny smith apples. A great pairing to try would be herbal tea with a cranberry or apple crisp, tart, crumble, or pie! Shop our selection of herbal teas now!
Revolution Tea Holiday Tea Pairings
We hope these holiday tea pairings have been inspirational, unique, and inviting. Whether you're interested in tea pairing with desserts, appetizers, or main courses, Revolution Tea has what you need. Shop online now and start building your holiday tea pairing menu today.