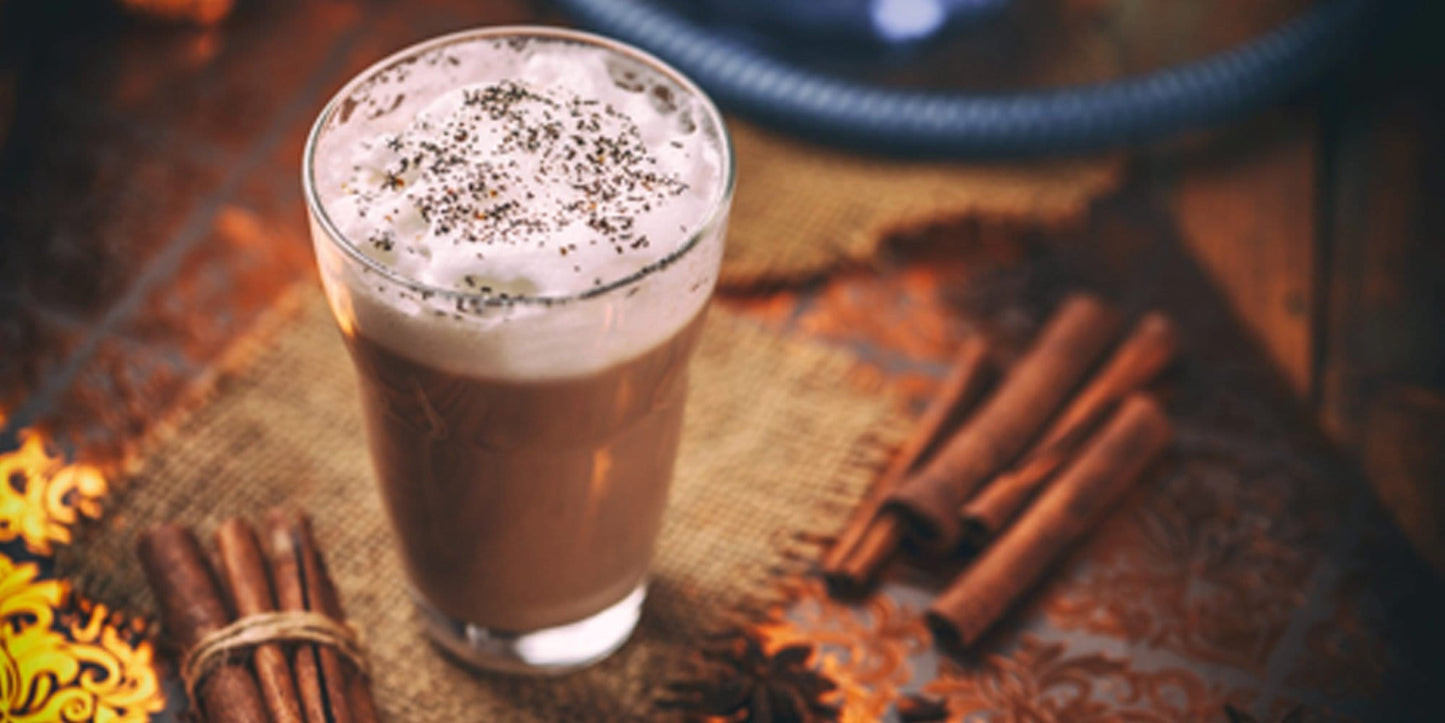 Black tea is a staple for many people the world over and has a long history of being the tea of choice for people in Europe and Asia. It was even traded as currency in certain parts of the world, valued for its energizing properties, flavor, aroma, and the ability to stand on its own or combine with both sweet and spicy flavors to make the perfect cup of tea. In the western world, black tea accounts for more than 90% of all tea sales. If you're not a coffee drinker or have just always wanted to try making a tea latte, we've got a black tea latte recipe you'll want to try.
You can choose from one of our delicious black tea blends including Bombay Chai Black Tea, Earl Grey Lavender Black Tea, English Breakfast Black Tea, Raspberry Black Tea, Sweet Ginger Peach Black Tea, Organic Nilgiri Decaf Black Tea, Organic Darjeeling Black Tea Loose Lea, or Organic Nuwara Eliya Black Tea Loose Leaf, or customize your own combination. To make a latte, you'll need some form of milk and a sweetener, whether you choose to go for regular sugar, honey, agave syrup, vanilla extract, or an artificial sweetener.
Here are the basic steps for how to make yourself a black tea latte:
How to Make Black Tea Lattes with Revolution Tea
Prep Time: 5 mins
Cook Time: 5 mins
Total Time: 10 mins
Ingredients:
5-6 ounces of water
½ to 1 ounce of milk
1 black teabag or 1 tablespoon of loose leaf black tea
Fruit tea of your choice, if desired
Sweetener
Directions:
Bring the water to a simmer in a small pan.
Add the milk of your choice.
Add teabag or loose leaf tea (in infuser) to simmering liquid. For instructions on temperature and length of brew time, click here.
Transfer to mug, cover, and allow mixture to steep for five minutes.
Add sweetener of your choice to taste.
Stir well or whisk to create a frothy finish.
Serve warm.
For a cold tea latte, follow the same recipe above, allow to cool and serve over ice. If you wish, you can reserve the cold milk and add it to the tea once it has cooled. For a frothy cold latte, pour the chilled mixture into a 16 ounce container or cocktail shaker with ice and shake vigorously for 30 seconds. For a tall drink, increase the water in this recipe to 8 ounces.