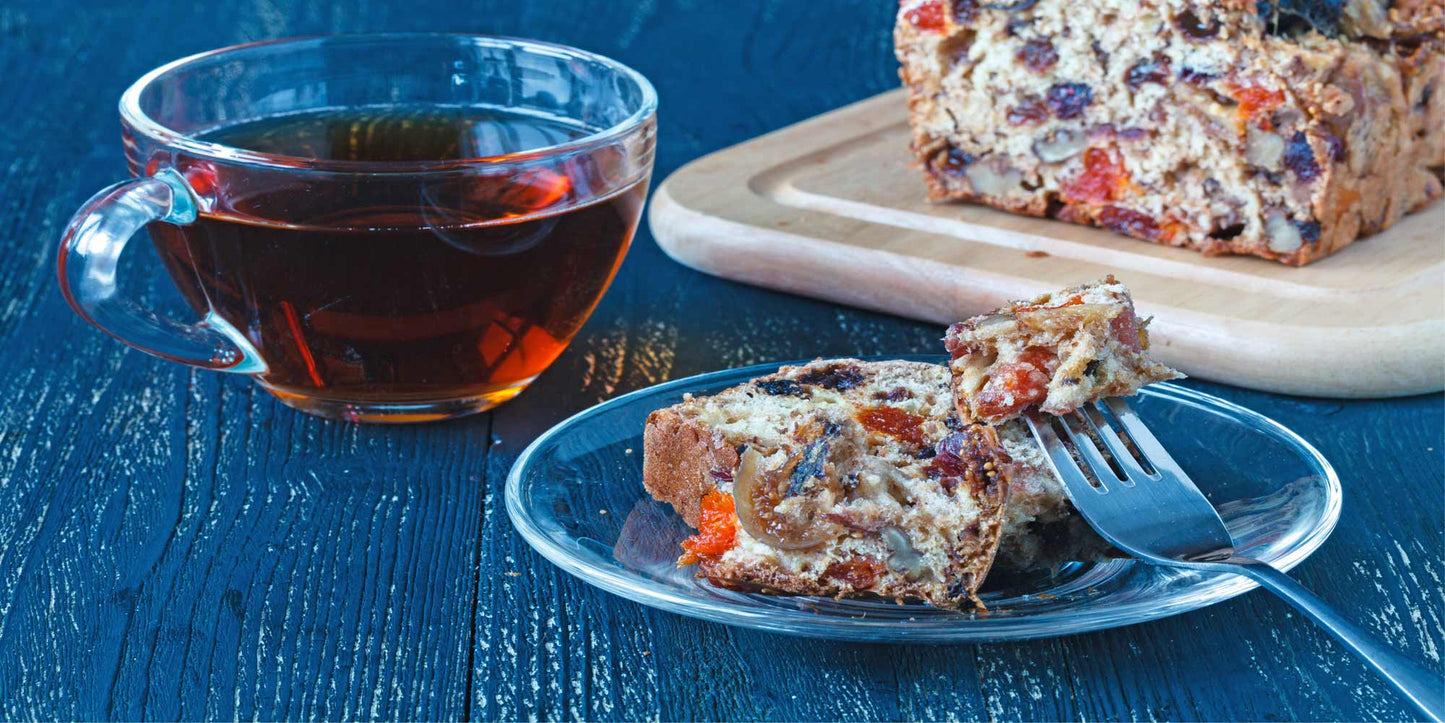 Holiday Fruit Cakes with Bombay Chai from Revolution Tea
Of all the hated holiday delights, holiday fruit cakes literally take the cake. Between all the pumpkin spice lattes and the stale popcorn tins, fruitcakes get a bad rap.
To be fair, we've all seen those dense, brick-like cakes that are full of candied fruit and are more often used as door stops than they are actually eaten! This recipe is not for making doorstops, but incredibly tasty fruit cakes with chai tea.
Yes, it's entirely possible to make a fruit cake that's not only festive – but is incredibly delicious, and will be enjoyed by your entire family. So, ditch those store-bought holiday fruit cakes, and see how you can make a delicious fruit cake at home.
What's the secret to a great fruitcake? Well, there are two. As you know, we love tea cakes at Revolution Tea – so we've gone ahead and created this recipe to use our Bombay Chai tea, which is a delicious blend of high-quality black tea with a bold collection of spices including ginger, nutmeg, cloves, cinnamon chips, and more – the traditional chai flavors will have you screaming for more! That's our first secret.
Our second secret is a spice blend called "ras el hanout." This Moroccan spice mix contains over a dozen spices – and each family in Morocco will often use different proportions when making it at home! Common inclusions are cinnamon, clove, nutmeg, paprika, peppercorn, coriander seed, dry ginger, chili peppers, allspice, fenugreek – the list could go on and on! (Thanks to Martha Stewart for the inspiration!)
Despite being used mostly for Morrocan dishes, it's easy to get pre-mixed ras el hanout online – or at a local spice shop near you, if you're lucky enough to live near a high-quality spice shop. This spice mix is mostly used in savory dishes – but its unique flavor compliments the sweetness of fruit cake perfectly.
The recipe for this fruit cake is pretty simple, and if you've ever made a homemade cake before, you won't run into a lot of surprises. It takes a little bit of prep the night before, but it's nothing that you won't be able to handle!
Still not sure that a fruit cake can actually be delicious, with great texture and a unique flavor? Read on to see the recipe and make it yourself – once this chai tea cake hits your taste buds, you won't need any more convincing! Without further ado, let's get into the recipe.
How To Make A Bombay Chai Fruit Cake with Revolution Tea 
Ingredients
1/2 cup dried currants

1/2 cup raisins

1/2 cup dried figs diced into ½"

1/2 cup dried apricots diced into ½" pieces

1/2 cup prunes, cut into ½" pieces

1 cup strongly-brewed Bombay Chai Tea from Revolution Tea

1 ½ cups of self-rising flour

2 teaspoons ras el hanout spice mix (pre-mixed or homemade)

¼ tsp kosher salt

¾ cup light or dark brown sugar (packed)

1 large egg, beaten

Whole milk

Salted butter for serving (optional)
Directions
Prep time: 20 minutes
Cook time: 50-55 minutes
Total time: 70-75 minutes
Instructions
Combine your dried fruits and pour your Bombay Chai tea over the top. Cover and keep in a cool place overnight. The fruits will absorb the tea, plumping up, and getting a delicious flavor.
Preheat your oven to 375 degrees. Use parchment paper to line a standard 8.5 x 4.5-inch loaf pan. Leave 1 ½ inches overhanging on the long sides for easy cake removal.
Sift the salt, ras el hanout spice mix, and flour into a large bowl, then add the packed brown sugar. Add the egg, then stir in the fruit mixture and any liquid remaining in the bowl. Mix until combined. The batter should easily drop off of a spoon. If your mixture seems too thick, add a little bit of whole milk to thin it out.
Transfer the batter to your pan, and place it in the oven. Bake until a toothpick or skewer placed into the center comes out clean (50-55 minutes for most ovens).
Let the cake cool for 10 minutes in the pan. Then, invert the pan onto a wire rack and remove the cake to let it cool completely before serving.
Slice cake and serve, adding butter if desired. Wrapped in plastic, the cake will keep at room temperature for 3 days. After it's cooled off, the cake can be toasted before serving, if desired.

This Delicious Holiday Fruit Cake Will Make You A Believer!
This is one of our best tea cakes yet (if we don't say so ourselves) and we hope that you'll love it. The delicious spices of the Bombay Chai tea work with the sweet, chewy texture of the dried fruit and the savory taste ras el hanout spice mix for a flavor that's truly out of this world.
It's easy to modify, too. As long as you keep the proportions the same, you can substitute any dried fruit you like – such as Craisins, dried pineapple, dried mango, or anything else you want to try!
Got questions or comments? Want to show us how your cake turned out? Let us know on our website, or on social media like Twitter, Instagram, or Facebook.
Also, don't forget to shop our range of Bombay Chai tea to get the ingredients you need for this recipe, which is offering a BOGO (Buy One Get One) deal all throughout the month of September!