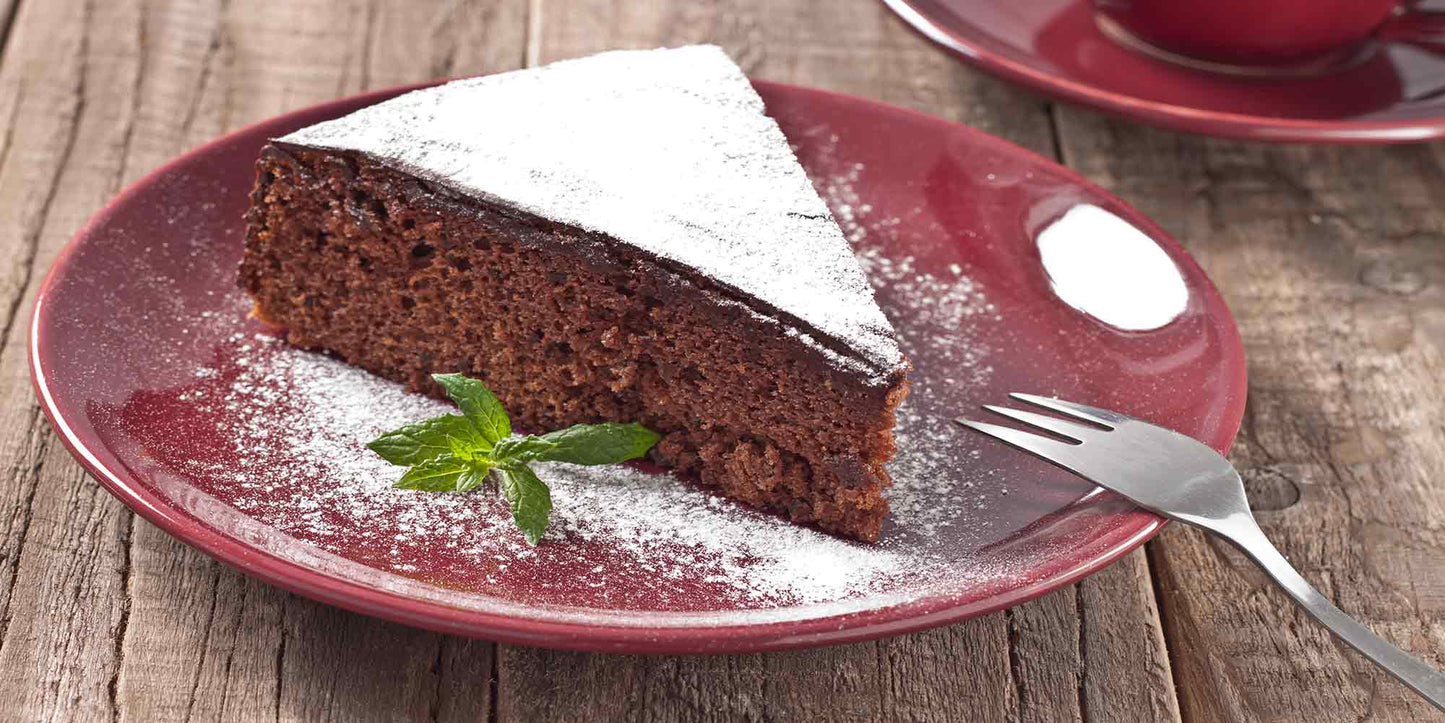 Who Doesn't Like Chocolate Cake?
Chocolate cake is an amazing food that is loved around the world. There are too many variations to number, but we have a tea infused cake recipe to share with you that will tickle your taste buds and make you want to keep this cake all to yourself. But sharing is even more fun, especially when you see the look on the faces of your friends and family the first time they taste this amazing flavor combination of chocolate and Earl Grey tea. Note: To correctly brew the tea for your chocolate tea cake, follow this chart. To create a tea infused cake, you start by heating 2/3 cup milk in pan, then add 2 tablespoons of loose tea or 5 tea bags. Follow the chart to infuse the tea properly. Then combine ingredients! Steeping it this way will give you a very strong essence of tea.
How to Make Chocolate Tea Cake
Prep Time: 15 Minutes
Cook Time: 50 Minutes
Total Time: 65 Minutes
Ingredients:
1¾ cup (or 1 cup after using 2/3 cup for tea steeping) milk of choice
5 Earl Grey teabags (or 2 tbs of loose leaf tea)
2 cups Coconut Sugar
2 cups gluten free, all-purpose flour
½ cup dark cocoa powder
2 teaspoons baking soda
1 teaspoon baking powder (decrease slightly for higher altitudes)
½ teaspoon salt
3 eggs
½ cup melted oil of choice (such as coconut or olive)
1 teaspoon vanilla extract
Confectioners' Sugar for dusting
Directions:
Preheat oven to 350F (375F for higher altitudes). Use tea infusing directions and add teabags or loose tea (use infuser for loose tea). Let steep until milk is golden and fragrant. Squeeze all milk out of the teabags and discard the bags, or simply remove tea infuser. Add additional milk to make it 1¾ cup.
Place sugar, flour, cocoa, baking soda, baking powder, and salt into a large mixing bowl and stir to combine. Add eggs and oil; stir to combine.
Slowly mix in Earl Grey tea infused milk and vanilla; beat until thoroughly combined, remembering to scrape down the sides and bottom of the bowl and mix well.
Pour batter into a greased and floured 10 or 12-inch fluted/ Bundt cake pan.
NOTE: For high altitude baking, only fill cake pan halfway.
Place cake pan on middle rack of oven and bake for 30-35 minutes or until middle is set. Check to see if cake is done by inserting a toothpick in the center; if it comes out clean, the cake is done.
Place cake pan on a wire rack and allow cake to cool for 10 – 15 minutes before placing on a serving plate. Dust with confectioners' sugar or frost with a sugar glaze and serve!
High Altitude Baking Directions
When baking at a higher altitude, you will need to make a few minor adjustments for your chocolate Earl Grey cake to come out right. At higher altitudes air pressure is lower, so foods take longer to bake. Keeping this in mind, temperatures and/ or bake times may need to be increased. Liquids also evaporate faster, so flour, sugar, and liquid amounts may need to be adjusted slightly to prevent cake batter that is too moist, too dry, or gummy in this chocolate tea cake. According to baking experts, most chocolate tea cake recipes don't need modification below or up to 3,000 feet. Above this altitude, it's often necessary to decrease the leavening and sugar (or both) and increase liquids. Butter, which melts in the oven, is considered a liquid; eggs, however, are not--they act as stabilizers in baked goods.
Sugar Glaze
Prep Time: 10 Minutes
Ingredients:
2 cups of powdered sugar (aka confectioner's sugar or icing sugar)
Your choice of water, milk, cream, half and half, tea or liqueur to thin the glaze to your preferred consistency
Vanilla extract (for a classic vanilla flavored glaze)
Directions:
Sift sugar to remove any clumps.
Place sugar in a bowl and gradually add your liquid of choice.
Whisk the mixture until a smooth icing forms and you reach the desired glaze consistency.
If you want a classic vanilla glaze, whisk in vanilla extract. The glaze will be ivory instead of pure white due to the vanilla. If you want a white glaze, you can substitute clear vanilla flavoring, but this is imitation flavor. You can also use almond, coconut, or peppermint extract for an added flavor twist, or try a little ground cinnamon, ginger, nutmeg, or cardamom to add some warmth!
Whether you decide to call this chocolate tea cake or Earl Grey cake, enjoy it with a tall glass of milk, a steaming cup of hot tea, or a complimentary mug of hot cocoa. There's simply no wrong way to experience the deliciousness of this scrumptious tea cake recipe, and you'll enjoy it even more by sharing with a loved one. For the perfect Earl Grey tea for this cake, shop Revolution Tea! Our great selection of Earl Grey teas will help create the best tea infused cake recipe!