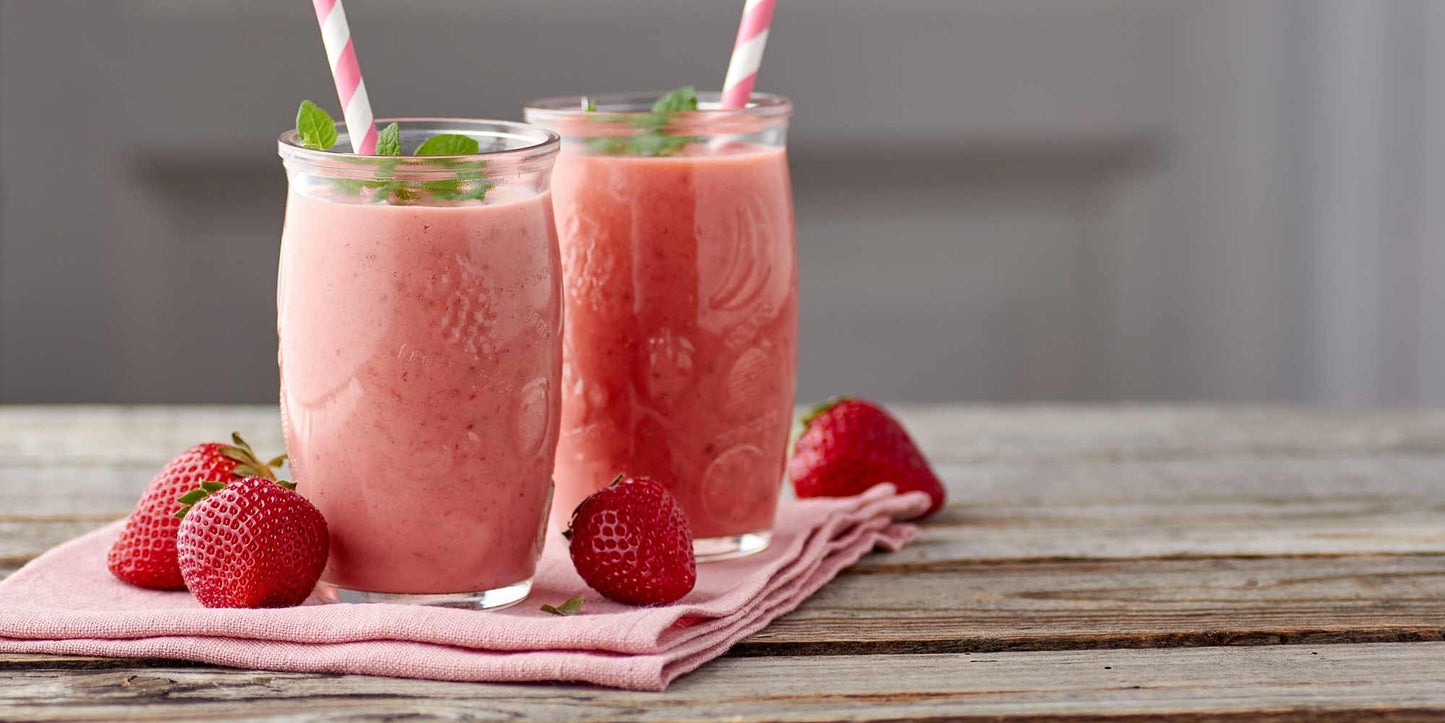 At Revolution Tea, if there is one thing we know about Arizona summers it's—they are hot! Our team has been talking about ways to beat the heat and enjoy the warm summer evenings this week and during those conversations, we created the perfect tropical green tea smoothie.
This simple, yet fantastic flavor combines the awesome taste of tropical green tea with sweet mangoes and strawberries. The result is a refreshing tropical tea smoothie that is the perfect balance of flavor and consistency. You can also add a shot of your favorite light or dark rum and turn this smoothie into a summertime tropical daiquiri, just don't drink and drive afterward!
The beauty of this recipe is that you can substitute your favorite fruit with the frozen fruit of your choice or add some coconut chunks to the mix and make a Franken-smoothie to your taste, but we recommend sticking to the sweet and tart fruits of the tropical and berry variety.
Whatever you choose, we know that the tropical green tea from Revolution Tea will give the smoothie a unique flavor that will have you running back to the kitchen to make more.
Tropical Tea Smoothies
When we started talking about how we make smoothies, we discovered that we all had a slightly different way we made tropical
How to Make the Perfect Tropical Green Tea Smoothie with Revolution Tea
Prep Time: 5 Minutes
Cook Time: 5 Minutes
Total time: 10 minutes
Ingredients:
1 Cup Brewed Tropical Green Tea from Revolution Tea (Use 2 bags for the best flavor)
3/4 Cup Mango (Frozen Chunks)
1/2 Cup Strawberries (Frozen)
1 Banana (sliced)
1 Cup Almond or Coconut Milk(cold)
1 Tablespoon Honey or Agave Nectar
Directions for Revolution Tea's Perfect Tropical Green Tea Smoothies:
Brew 8 oz of Revolution Tea's Tropical Green Tea (2 bags for best flavor)
Put Mango, Strawberries, Honey, and Almond milk in a blender
Lightly blend above mixture with pulse function on the blender
Turn blender on med-speed and fold Tropical Green Tea into smoothie from top of blender (If you can't do this, add a little bit at a time and blend as needed to fold in the tea)
Blend until smooth (if the smoothie won't blend add more milk or tea to help smooth the frozen fruit out)
Pour into your favorite glass and serve!
Enjoy!
If you want sweeter tea you can add more honey or add a twist with a 1/2 tablespoon of brown sugar. Additionally, you could set up by the pool with little umbrellas in your drink and your favorite book while enjoying this amazing tropical green tea smoothie this summer.
We love to hear your thoughts and see your Tropical Green Tea Smoothies on our Facebook or Instagram pages. @ us and tell us how you liked it!