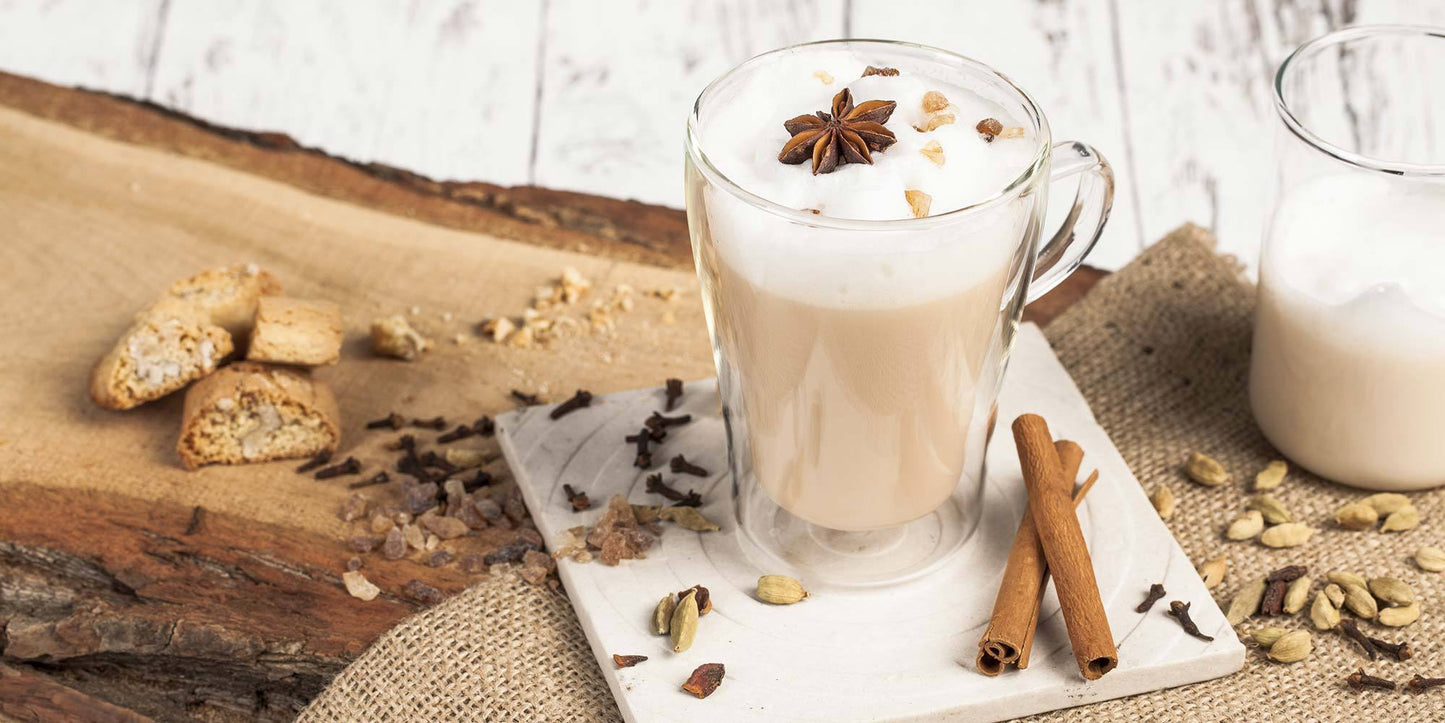 How to Make Chai Tea Lattes
Prep Time: 5 mins
Cook Time: 10 mins
Chai tea lattes are a delightful way to keep the chill out of your bones this time of year. Not only does the hot, rich, milky drink warm you up, but the bright cinnamon in the chai blend itself gives a warming sensation too. While a fancy chai tea latte from the coffee shop is certainly a treat, they are surprisingly easy and very affordable to make at home.
You'll need:
One delicious chai tea bag (recommend 2-3 bags for "strong brew")
8oz Boiling water
1 tbs Raw sugar
1/4 cup half-and-half
Cinnamon
Begin by brewing the chai tea according to the instructions; aim for 8 ounces of tea. This is a good time to dissolve about a tablespoon of raw sugar into your tea as well, which will make it the sweet treat you desire later on in the process.
Take a 1/4 cup of half and half and froth with a milk frother. One option for doing this is to heat the milk up slowly and then shake it hard in a jar to get a frothy texture to it, if you don't have a milk frother. If you prefer your lattes without foam, just heating the half-and-half is also fine.
Then add the frothed milk to the tea. Most people remove the foam at the top (this foam tends to be what characterizes a cappuccino and other espresso drinks), though try it different ways to see what you like. Add a dusting of raw sugar and cinnamon on top to make it pretty and add a bit of a flavor to the milkiest part of the latte.
While this is a great way to enjoy your chai tea latte, there are many other variations!
Experiment with additional flavors, like ginger or vanilla. You can even use a sugar substitute instead and cut some of the carbs.
And, if you choose an alternative milk, like skim milk or almond milk, you can add more protein or take away some of the fat.
No matter how you make your chai tea latte, you can always rely on excellent Revolution Tea's Chai Tea Blend to be the heart of the recipe.