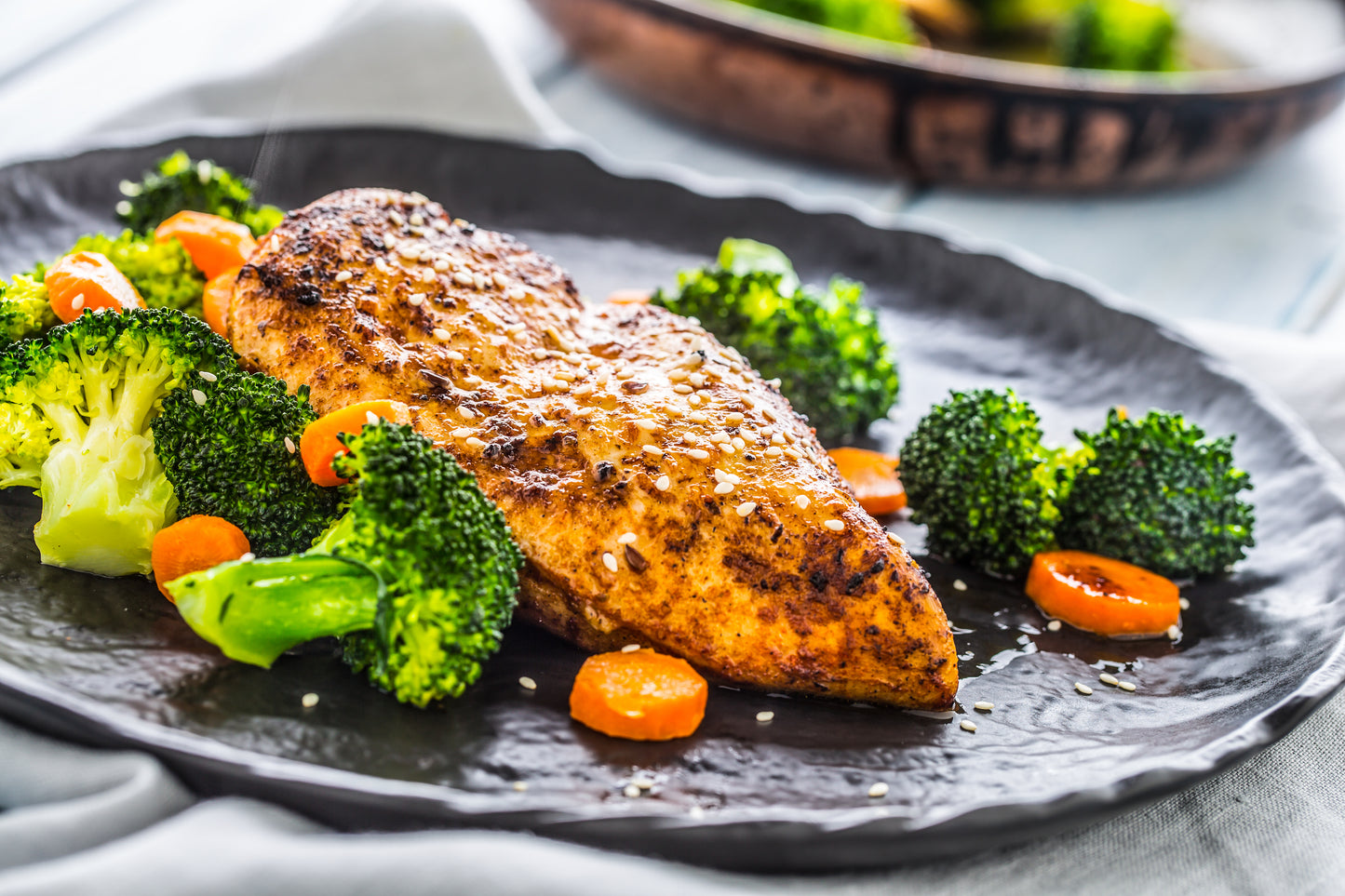 Lapsang Souchong Chicken Dinner with Broccoli
Looking for a delicious, healthy, and easy dinner idea for your family? This chicken dinner roast with lapsang souchong tea and broccoli is a fantastic choice. It's healthy, easy to make (and easy to clean up), and has a unique flavor thanks to the oxidized, smoky lapsang souchong tea used in the recipe – shop our range of lapsang souchong tea and other teas today and try this recipe for yourself!
What Is Lapsang Souchong?
Lapsang souchong is a special type of rolled black tea, which originated in China. It's roasted twice over pine wood and pine needles to dry the tea leaves and is rolled and oxidized in bags to give it a very unique smoky and resinous flavor.
While it's delicious on its own as a cup of fresh tea, it's also a great spice to use in cooking, since few other spices match its unique flavor profile. It's particularly well-suited for cooking mild meats like chicken that can benefit from a burst of smoky, savory flavor.
How Does Lapsang Souchong Work with Chicken?
The term "lapsang souchong" comes from two different Chinese words – "lapsang" meaning "small sort" and referring to the type of tea leaves used for this tea, and "la" and "sang" which mean "pine" and "wood."
Lapsang souchong is dried and aged over pine wood and needles, which smoke the tea, cause it to oxidize, and give it a unique flavor that's a great accent for meats, particularly chicken and other white meats. It adds a boldness to chicken that can often be lacking and works well with quite a few other spices!
How Can I Modify This Recipe?
If you love this combination of chicken and lapsang souchong but want to change things up, there are a few options!
For example, you can add lapsang souchong to your favorite chicken seasoning blend to pump up the flavor even more – it goes great with paprika, cayenne pepper, garlic powder, thyme, onion powder, dried basil, parsley, and so much more. Using this tea will imbue your chicken with some smoky deliciousness whenever you cook.
Other Veggies:
You can also use different or multiple vegetables – most leafy, green vegetables will work equally well as broccoli. Alternatives include Napa cabbage, green heart cabbage, spring greens, long stem broccoli, and Swiss chard. You can even mix your favorite greens and veggies for a more "stir-fry" style dinner.
Other Chicken:
You can also use different types of chicken for this recipe, such as chicken legs. Chicken legs are a great secondary option for this recipe because skin crisps up when cooking, and the dark meat of the leg forms a perfect combination with the spice mix. However, it will be equally as delicious no matter what part of the chicken you choose!
Other Meats:
Don't have to stop there! Lapsang souchong can be used to season fish, pork, and even beef, as shown below, so feel free to experiment! If you love the flavor of this unique tea, there are tons of other ways you can incorporate it into your cooking – shop today with Revolution Tea.
Lapsang Souchong Chicken and Broccoli Recipe
Prep Time: 10 Minutes

Cook Time: 30 Minutes

Total Time: 40 Minutes
Ingredients:
1 ½ teaspoons ground Lapsang Souchong tea

½ teaspoon salt, divided

¼ teaspoon pepper

4 medium chicken breasts (2 to 3 pounds)

1 tablespoon dark (toasted) sesame oil

1 pound broccoli

2-3 green onions, to taste


Directions:
Preheat your oven to 450° F. Coat a high walled metal sheet with cooking spray.
Combine 1 1/2 teaspoon tea with 1/4 teaspoon salt and 1/4 teaspoon pepper in a small bowl. Rub the spice mixture onto all sides of the chicken breasts. Place the chicken on the cooking sheet.
Cook chicken in the oven for 25 to 35 minutes, until the innermost section of the breasts is 165 degrees F. Let the chicken rest on the pan for 5 minutes.
While the chicken is cooking, heat oil in a large metal pot or wok on medium-high heat. Dice broccoli florets into small pieces and add to the heated pot. Sauté florets on high heat until softened, approximately 6 minutes. Add remaining 1/4 teaspoon salt once the broccoli is cooked.
Place the broccoli on a place and lay the chicken breasts on top. Scrape the remaining chicken juice from the cooking sheet into a small bowl and stir in 2 or 3 diced green onion. Drizzle over the chicken and Broccoli.
Enjoy!