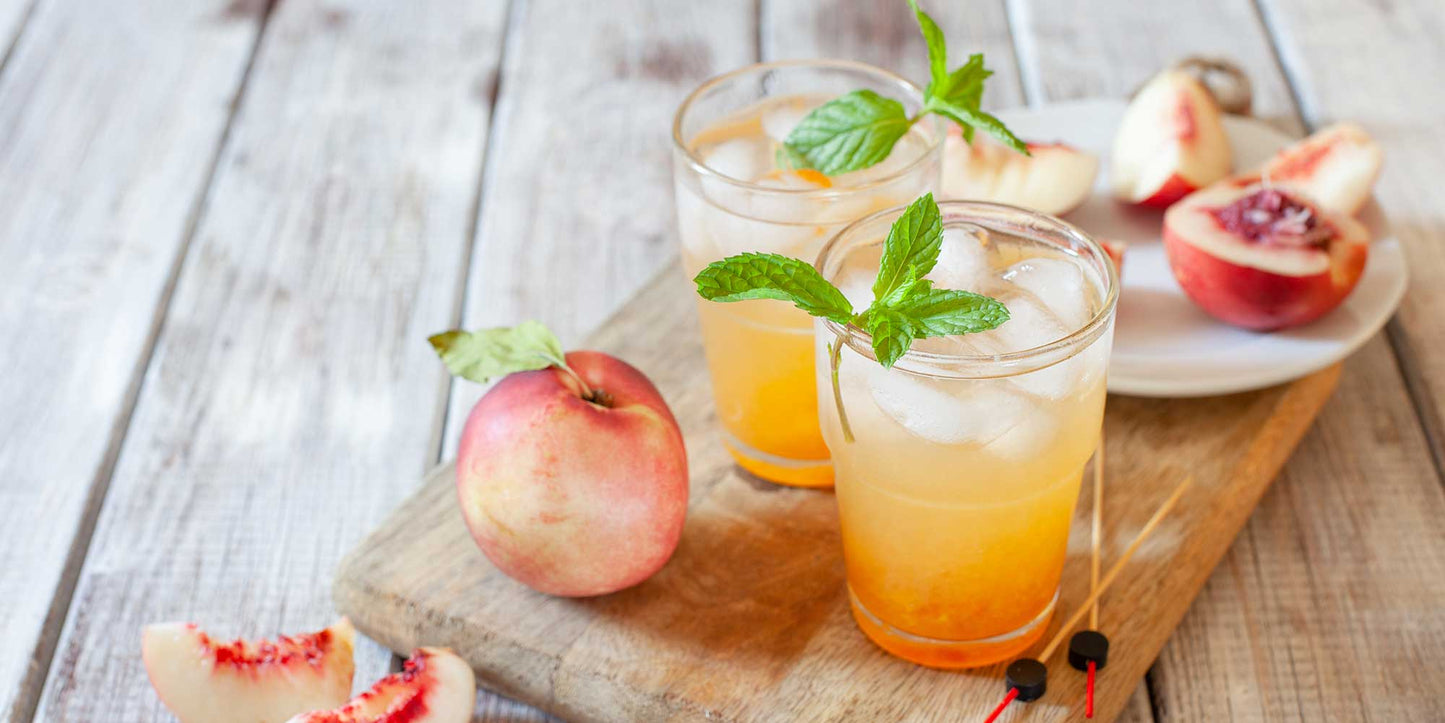 Anyone who hasn't had a refreshing, fruity cup of our dazzling Peach Mango Tea yet is in for a real treat. As well as getting to try our tempting, taste-bud tantalizing, peach-and-mango flavoured cup of heaven – you also have a new recipe to try.
Peach Mango Tea is perfect for all occasions. It's light, fruity, and tastes of summer days spent strolling the beach with your shoes in one hand. It's green tea, so it works hard to keep your summer body glowing. For a taste of the tropical in your own home, follow our recipe for Peach Mango Green Tea Lemonade… it's quick, easy, and more worth it than sand between your toes!
Not sure about brewing your tea? Follow this link for more information. Now that you're ready, let's get into our delicious Peach Mango Green Tea Lemonade recipe!
How to Make Peach Mango Green Tea Lemonade
Prep Time: 10 Minutes
Cook Time: 10 Minutes
Total time: 20 minutes plus chill time
Ingredients:
2 bags of Revolution Tea's Peach Mango tea blend
1 cup* granulated sugar (or your sweetener of choice as equivalent)
5 cups of water – four for the tea, the fifth to boil along with the sugar
1 large peeled and chopped peach – the fresher the better!
1 cup of lemon juice to add the succulent lemonade flavour
Directions:
To make Mango Peach Green Tea Lemonade, you will need more chill time than you will preparation time. This recipe needs to be undertaken first thing in the morning for a lunchtime visit, or first thing in the afternoon for a dinner party. Peach Mango Green Tea Lemonade is best served cool… but with such a taste explosion there is no need to wait for a hot day to enjoy it!
For best results, we suggest making the lemonade a full day before. It should not be taken warm – although this makes a perfect 'hot toddy' alternative for those suffering from throat ache!
To start making our luxurious lemonade, start by brewing up a batch of our brilliant peach mango tea. Let our specially designed infuser-style tea bags seep flavour into every molecule of your water. Once it has been suitably soaked, your 4 cups of brewed peach mango tea can come off the heat. Remember to keep back one cup for the next stage.
While your peach mango green tea is cooling, mix your cup of sweetener (or granulated sugar), your cup of lemon juice, and the last cup of water together in a pan. Bring it steadily to the boil then, when it starts to boil, turn it down to a simmering heat. There is no sense in burning it. Once all of the sugar granules or sweeteners have disappeared completely, it will be time to remove it from the heat.
For the next stage, remove your sugar/water mix from the heat and set it aside. Pour the peach mango tea you brewed earlier into the mixture and stir it thoroughly. Before you set it aside to chill for a few hours (we recommend a minimum of four hours in the chiller), make sure you add in your peeled and chopped peach. If you prefer, you can add this in at the cooking stage with the brewed tea. However, we would caution that you strain the tea before you go any farther if you use this method because the fruit will break up in the heat.
Pro Tip: Don't put hot tea in your fridge to cool. The steam will affect the temperature of your whole fridge and might even break it. Worse; your tea will 'sweat' and water itself down. To cool tea quickly, remove it from the heat and transfer it into a cooled container and wait for the temperature to drop.
Makes:
Each batch will make approximately 6 cups or 4 servings.
*1 cup is roughly equal to 100g/ml