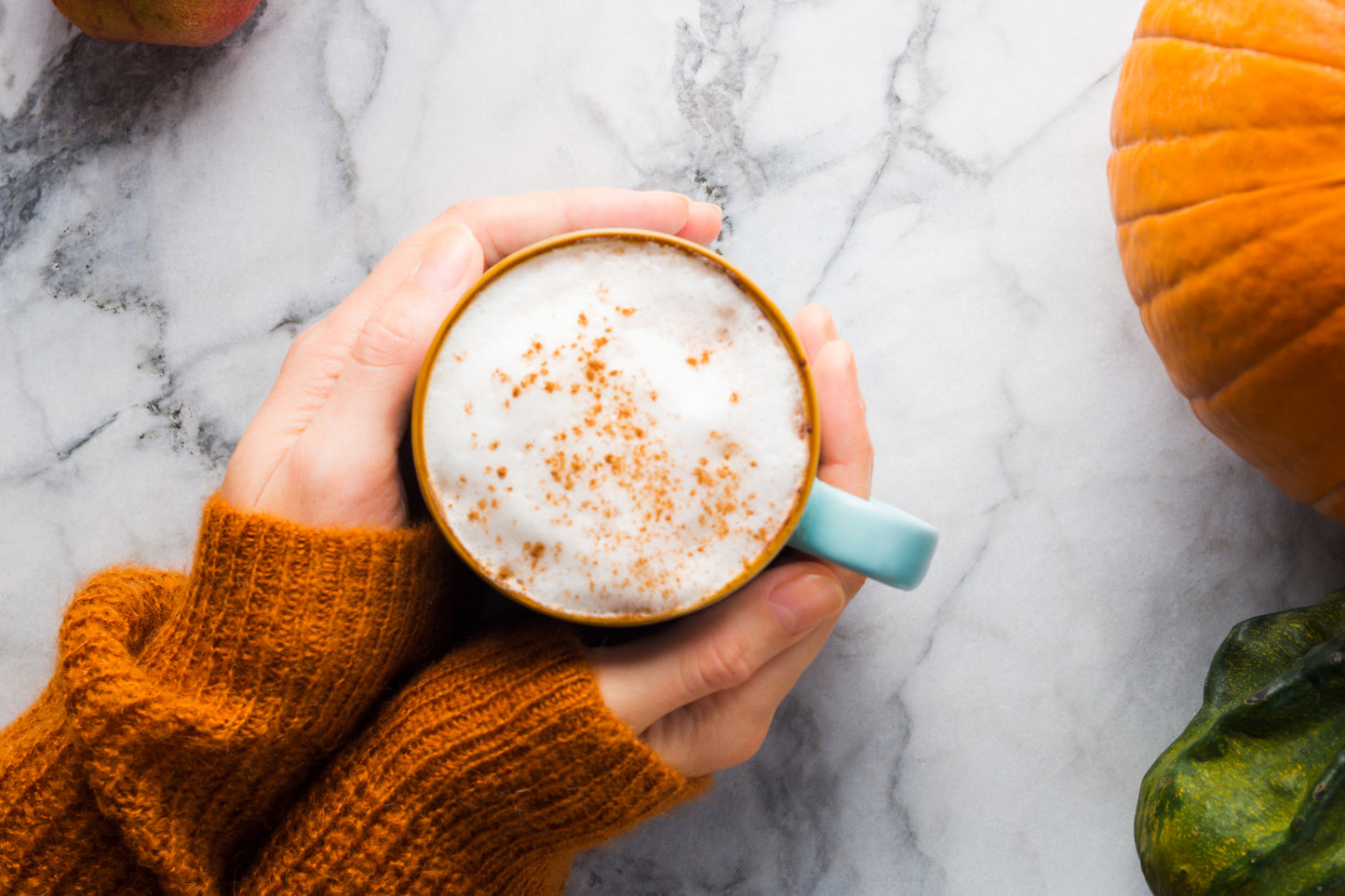 What do you think of when it comes to Fall? Comfy scarves and fleece sweaters and hoodies? Leaves changing colors to gorgeous shades or red, orange, and yellow before falling to the ground to provide a satisfying crunch when stepped on? Halloween? All of these things are great, but it's not really Fall until you've had your first pumpkin spice latte, is it? The pumpkin spice latte, or PSL for short, has been a Fall staple for years and while it's a delicious treat on its own, we recommend changing it up every once in a while with a pumpkin spice chai latte with Bombay Chai Black Tea from Revolution Tea. Read on for the recipe and to see what makes this Fall treat so great!
Comparable to the pumpkin spice chai latte you'd get at Starbucks, this DIY drink combines the best elements of a chai tea latte and a pumpkin spice latte for a one of a kind taste that'll delight and comfort you as the cooler weather sets in.
Pumpkin Spice Chai Latte Ingredients
It may surprise you just how easy this drink is to make! All you'll need is Revolution Tea's Bombay Chai Black Tea, water, your favorite pumpkin sauce or syrup, pumpkin pie spice, milk or half and half of your choice, and whipped cream. You'll also want to grab a sauce pan, spoon and coffee mug.
Considering the chai tea is one of the stars in this drink, you want to start with a good and blend. Revolution Tea's chai teas have all the notes of cinnamon, ginger, cloves, and nutmeg so you'll taste the earthiness but it won't overpower the pumpkin spice taste.
To make one cup, you'll just need:
1 chai tea bag
1 cup of water
1 tablespoon of pumpkin sauce or syrup
¼ cup of milk or half and half
However much whipped cream and pumpkin pie spice you'd like!
Pumpkin Spice Chai Latte Recipe
Step 1 
Add the tablespoon of water and chai tea bag to the sauce pan. Brew and allow for the mixture to steep for five minutes.
Step 2
Add the tablespoon of pumpkin sauce or syrup to the mug you'll be drinking this delicious beverage out of. Then, pour the chai from the sauce pan into the mug and stir until it's evenly mixed.
Step 3
Pour your ¼ cup of milk or half and half in the mug and top with whipped cream and sprinkle a dash of pumpkin pie spice for a café-quality touch and enjoy!
Try This Amazing Fall Recipe Today!
Craving a pumpkin spice chai latte yet? Shop our selection of chai tea today! We offer 16, 20, and 30 count packages so no matter if you're looking to try the blend for the first time or are a chai tea enthusiast, we've got a package for you. Regardless, you'll be getting a full leaf tea that's been dried by the sun and handled by us with love and care and never with tea fanning's and dust. Order today and taste the Revolution Tea difference!