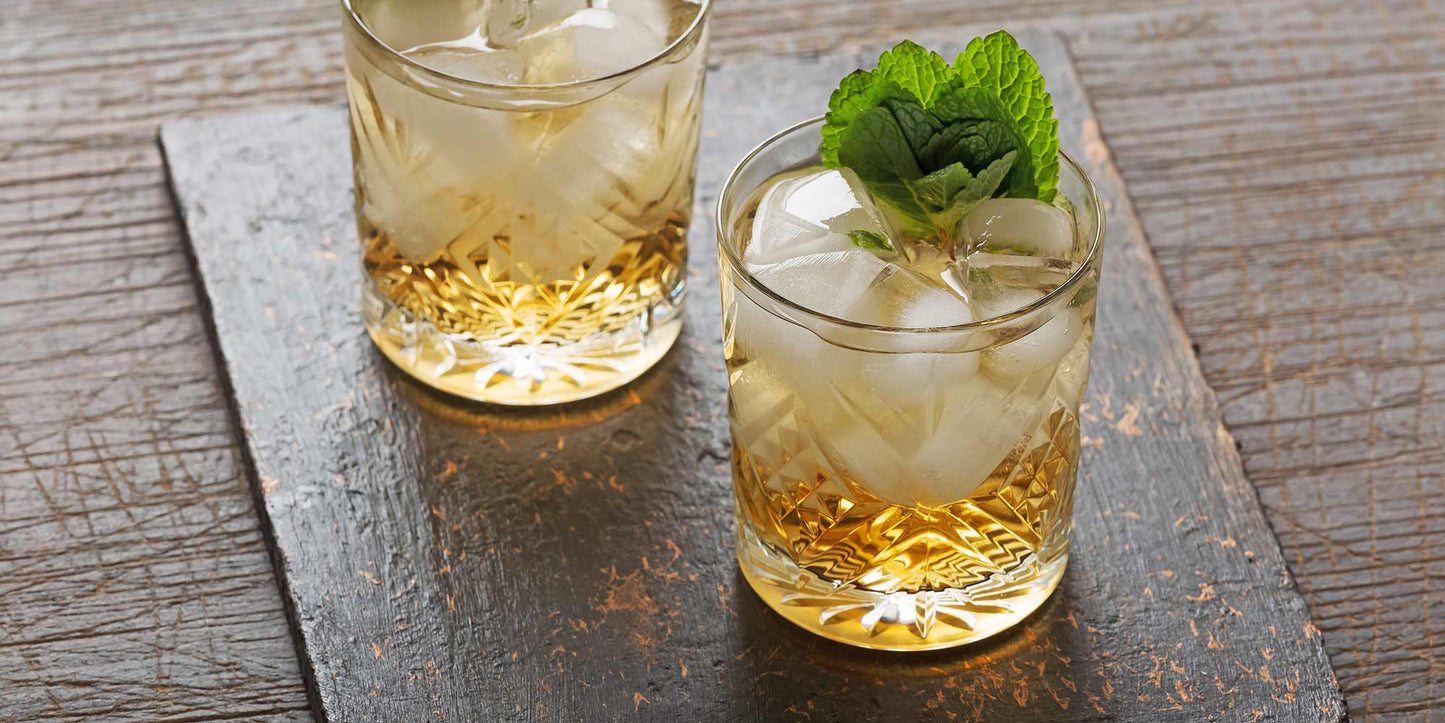 As the summer heats up, everyone has their favorite ways to enjoy the warmth and the team at Revolution Tea is no different. We love laying by the pool, grilling a weekend feast, relaxing inside with the AC (we are based in AZ, so the summer is hot!), and enjoying the perfect cocktail with socially distant friend to complete that summertime feel. When the Revolution Tea team was looking for refreshing relief from the sun, our resident flavor scientist was adamant we try her Southern Mint Mojito. She had made the simple syrup recipe for the Kentucky Derby, but since it was canceled, we tried them during home office chair races*. We have to say, this refreshing drink is delicious, yet deceptively simple to make.
The Southern Mint Mojito is very adaptable, making it an excellent starting point to play around with different flavors. We love to incorporate tea to add a hit of vibrant flavor, giving this easygoing summer drink a unique twist. This recipe will produce the perfect mojito, whether you are loyal to the classic mint flavor or you want to try a splash of fresh fruit flavor (our flavor scientist is so proud of us right now).
The key is the simple syrup, which infuses the fragrance of your favorite tea into what's sure to become your favorite cocktail. This recipe is for the classic mint mojito flavor with a Revolution Tea Southern Mint twist; see below for other mouthwatering flavor suggestions.
Tea-Infused Mint Mojito
Ingredients:
1.5 oz White Rum
1 oz Revolution Southern Mint Syrup (see syrup recipe below)
1 oz lime juice
Club soda
Large mint sprig
Ice
Directions:
Fill shaker with rum, infused simple syrup, and lime juice. Add ice and shake.
Transfer to a tall glass and top with club soda.
Place large mint sprig in one hand and gently slap it with the other — this helps release the aromatic oils for the maximum effect.
Garnish the drink with the mint sprig.
Drink & enjoy!
Southern Mint Simple Syrup
Ingredients:
Directions:
Place water in a pan and bring to a boil. Remove from the heat and add 4 infuser tea bags. Infuse for 3 to 4 minutes.
Remove infuser tea bags and place the pot back on the heat. Bring to a simmer, then slowly add sugar, stirring constantly.
When the sugar is completely dissolved, 2 to 3 minutes, remove from the heat and let cool.
Tea infused syrup can be stored in a closed container in the refrigerator for up to a month.
Flavor Options:
Classic Mojito Profile — Southern Mint Herbal Tea
Tropical Mojito Profile — Tropical Green Tea or Peach Mango Green Tea
Refreshing Fruit Mojito Profile — Pomegranate White Tea
The Southern Mint Mojito is a revolutionary twist on a classic summer cocktail for good reason; it's refreshing, cool, and comes together easily. If you keep your favorite flavor of infused simple syrup in the fridge, you're never more than a few minutes away from the perfect summer drink.
*Do not try this at home. Revolution Tea is not responsible for injury if you do.