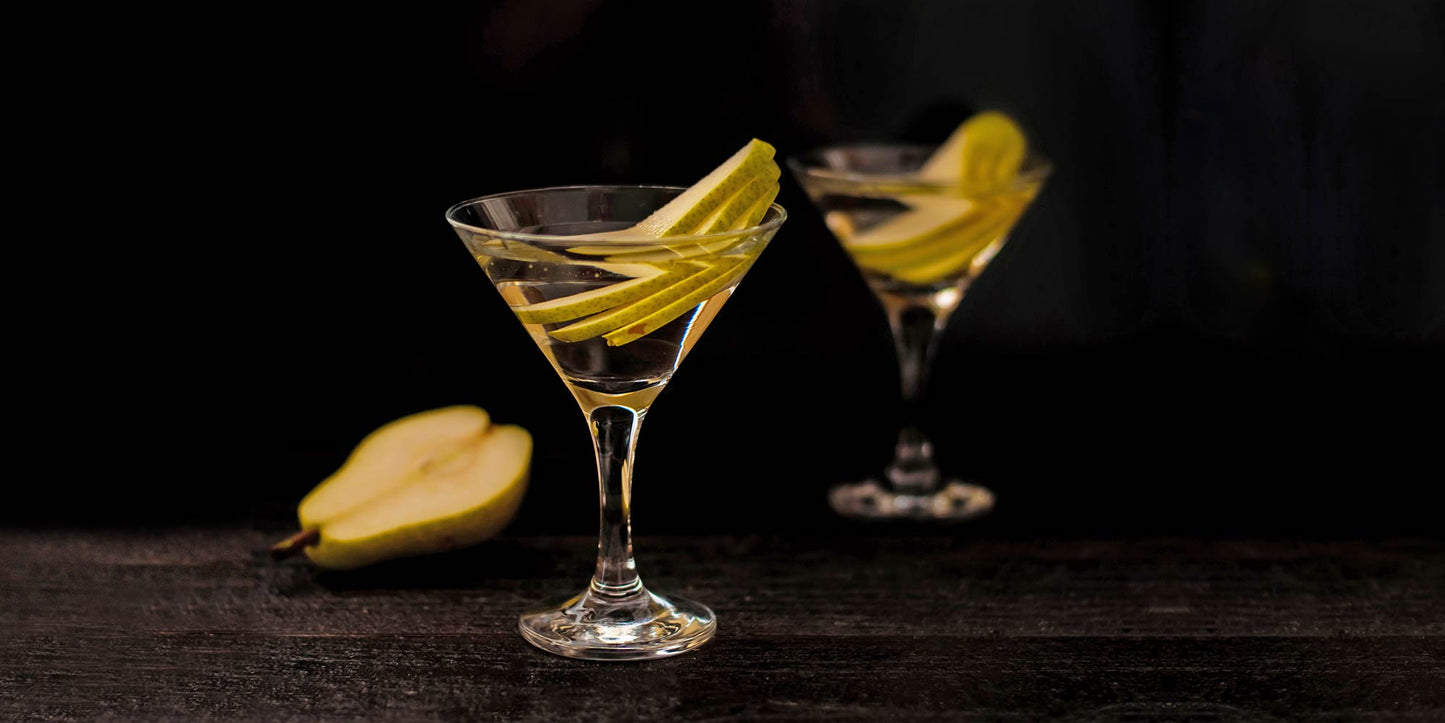 At Revolution Tea we are always looking for great drinks and trying out new drink ideas during digital happy hour. Recently, it has become quite the competition and debate during our new Friday ritual about who has the best tea-based cocktail in the Zoom. Our resident tea flavor scientist was back last week with this gem of a drink she was calling a White Pear Mar-Tea-Ni. As a group we met here with skeptical eyes until she convinced enough of us to try it and, we will tell you, the end result of this recipe is a wonderful, full-bodied martini that leaves the taste buds swaying and smiling.
We would like to note that you should always drink responsibly and never drive after martini's, wine, beer, or any other type of alcohol and that moderation is always best with any alcohol, but, enjoy yourself accordingly!
Our white pear tea has a sweet aroma and delicate flavor that delights tea drinkers. The subtle, almost floral aroma of white tea is joined with the taste of a juicy pear for a refreshing cup that you can linger over, whether it's hot tea or iced.
The subtle bouquet of this tea can also be enjoyed in the form of a unique and refined evening cocktail. When incorporating tea into a mixed drink it's important to strike a balance between the flavors, so no single note overwhelms the rest.
This White Pear Mar-Tea-Ni is an excellent example of a delicious blend of flavors. The gentle white tea and pear aroma of the tea are layered with pear liqueur, then brightened with just a touch of apple tang. This mouth-watering cocktail is simple to make and it's sure to become a favorite.
Here's how you can make this sophisticated treat to enjoy at home.
White Pear Mar-Tea-Ni
Prep Time: 10 Minutes, plus chill time
Ingredients:
3 parts Revolution Tea's Pear White Tea
2 parts pear flavored vodka (we recommend Grey Goose!)
1 part pear liqueur (optional if you have a real sweet tooth)
Splash of Apple Pucker liqueur
Directions:
Brew Revolution Tea's Pear White Tea for 2-3 minutes in 190-degree water (for instructions on the best way to brew all our teas, click here).
For best results, set aside brewed tea to cool before mixing.
Add ice to a martini shaker.
Add Pear White Tea, pear vodka, pear liqueur, and apple pucker.
Shake and strain into a chilled martini glass.
Garnish with a slice of juicy green pear.
Enjoy!
Our Pear White Tea is the perfect base for a sophisticated, refreshing cocktail. Making the Pear White Tea is easy and once you have chilled tea on hand most of the work is done. Then you're ready to whip up a White Pear Mar-Tea-Ni and take your evening from ordinary to exceptional. Treat yourself to this blend of antioxidant-rich tea and juicy flavors tonight!
Pro Tip: Don't put hot tea in your fridge to cool. The steam will affect the temperature of your whole fridge, warming all your food. Overcoming the temperature rise can even cause the fridge to work too hard and break down. Also, your tea will 'sweat' and the condensation will water it down. To cool tea quickly, remove it from the heat and transfer it into a cooled container. Once the temperature has cooled to room temperature, move it to the fridge to be chilled.