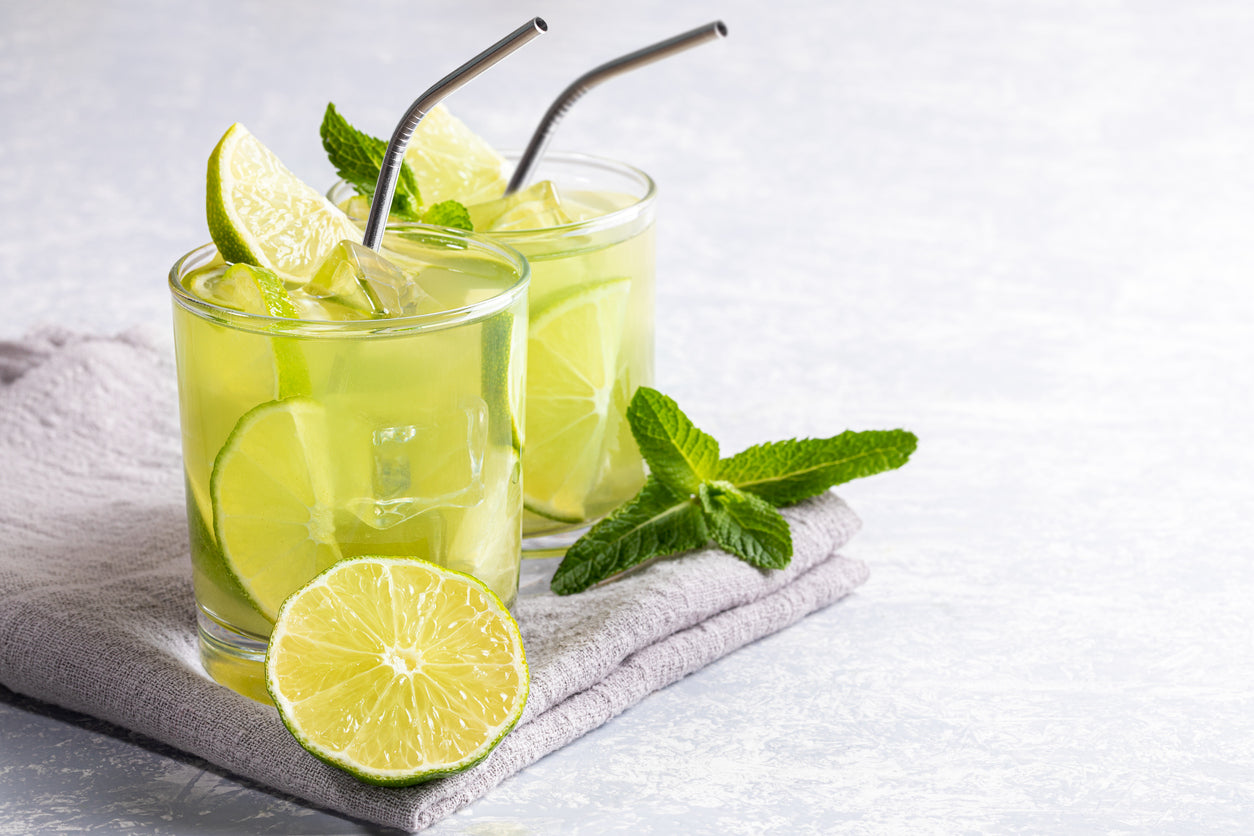 In the springtime many people enjoy daydreaming of gorgeous summer days when the sun will throw a wave of heat across their towns and the outdoors will call their names. You can probably feel the warmth already! Lounging out on a sun-streaked terrace, dipping your toes into the pool – enjoying warm weather often means finding ways to stay cool, and fixing up tasty cocktails is high up on many people's lists. But instead of the standard, run-of-the-mill drinks that you always make, why not add a twist that your friends and family will go nuts over?
Lime? Check. Ice? Check. Tea? Wait...Tea?
When you look at common cocktail recipes, tea might not be an ingredient you're used to seeing. But this is no ordinary tea. At Revolution Tea, our Tropical Green Tea blends the flavors and aromatic elements of Dragonwell green tea, Chinese Young Hyson green tea, and pineapple flavoring to create a swarm of scrumptious warm weather flavors that will have you feeling like you've just hopped off the plane in Cancún. Combing these popular hits with mojito mix and white rum, you can orchestrate your own tropical drink that everyone will be lining up for.
Ready to shake it? Here's a recipe you can whip up at home to enjoy right now if you're dying to try it:
Ingredients
1 tbsp fresh lime juice
4 large spearmint leaves, plus more for garnish
4 baby arugula leaves
2 tsp Monin Mojito Mix Syrup
1/2 cup brewed Tropical Green Tea, chilled
1 oz white rum
Ice to fill glass
Putting It All Together
Brew Revolution Tea's Tropical Green Tea, let steep for approximately 3-4 minutes as usual, then chill.
Muddle the lime juice, mint, arugula, and mojito mix together in a glass until the leaves bruise lightly and the flavors release.
Add ice until the glass is about 3/4 full
Pour rum and green tea into glass.
Stir well and garnish with mint and lime.
Skip the Grocery Store and Order a Bundle From Revolution Tea
If you're looking for an easier way to enjoy this new cocktail, Revolution Tea has put together a handy bundle that will save you the prep time and enable you to start passing drinks around in minutes. Our bundle includes a 30-pack of our Tropical Green Tea blend, 50ml of Monin Mojito Mix Syrup, and two Revolution Iced Tea Shakers. As long as you've got some white rum to mix in, you'll be ready to go! Order our Tropical Green Tea Mojito Bundle with Shaker today so you can sit back and sip on pure green tea goodness the whole summer long.