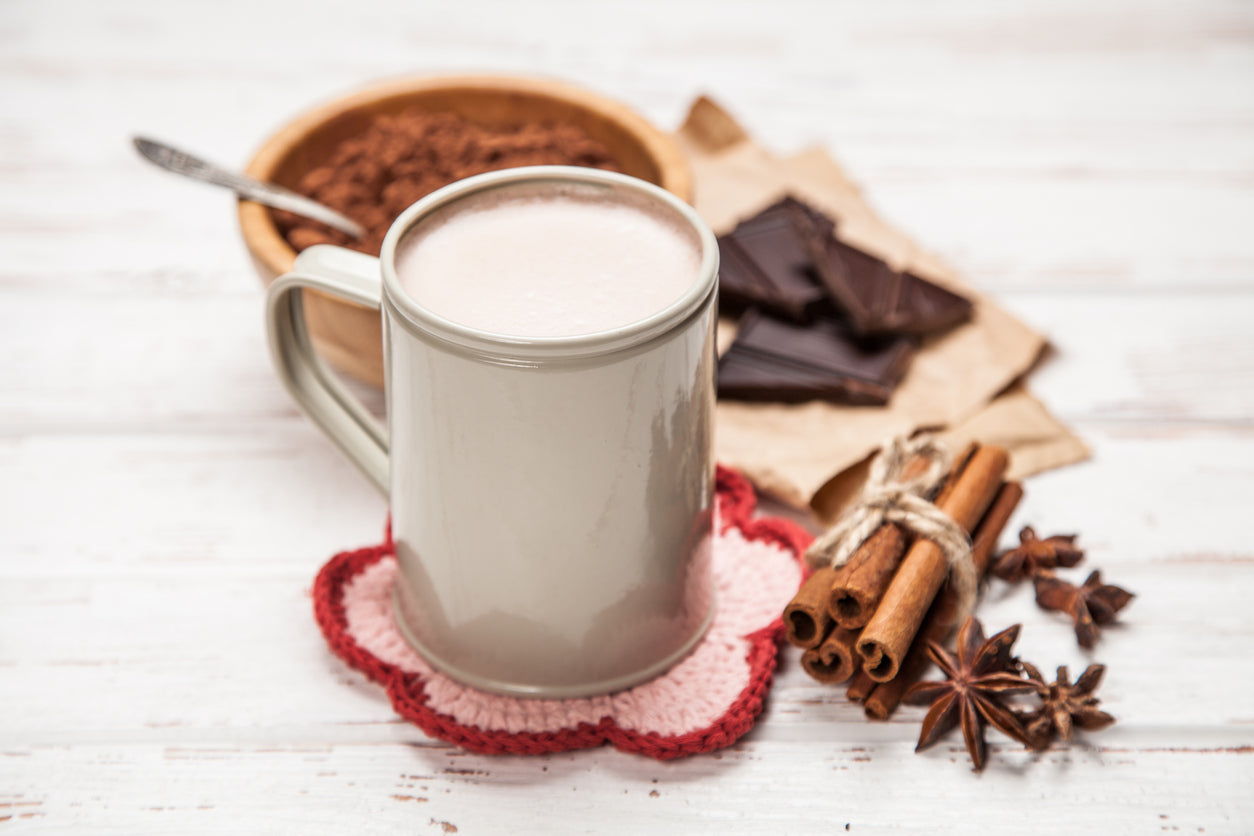 Winter is in full swing, and that means bringing out the puffy jackets, mittens, scarves, warm drinks, and eggnog! This winter, try something new and try a twist on your holiday favorite with an Eggnog Chai Latte made with Revolution Tea's delicious Bombay Chai Black Tea. This recipe is simple and has just three ingredients (with an optional garnish). This recipe can be made in under 10 minutes and is perfect for any occasion.
Eggnog is typically made around the holidays and includes milk, cream, sugar, egg, and often includes alcohol like brandy, rum, or whiskey. If you are looking for a nonalcoholic option, there are many brands of store-bought eggnog that come without any alcohol added. You can also add your own preferred choice of alcohol to this recipe for a delicious warm alcoholic drink. We recommend doing this before starting this recipe.
Ingredients
4 ounces water
4 ounces eggnog
4 ounces milk
1/4 tsp nutmeg
1 Bombay Chai Black Tea from Revolution Tea
 Instructions
Heat your water to a boil. This can be done on the stovetop but also inside a microwave using a microwave safe container. This should take 2 -3 minutes.
Place your Bombay Chai Black Tea in a large mug and pour hot water over your bag. Let steep for 4 minutes.
While steeping, pour your eggnog and milk into a microwave safe container and heat for 1-2 minutes until warm.
When tea is done steeping, discard the tea bag and pour the eggnog and milk mixture into your mug. Make sure your mug has room at the top for the next step!
If you own a frother, mix inside your cup for roughly 15 seconds. If you do not have a frother on hand, transfer your drink to a blender and blend for 15 seconds. Once frothed, return ingredients to your mug.
If you are a fan of nutmeg, sprinkle a little ground nutmeg across the top of your frothy drink.
Enjoy!
Revolution Tea's Bombay Chai Tea brings an exotic flavor to a traditional Indian black leaf chai tea. This tea delivers hints of ginger, cloves, nutmeg, and cinnamon to every sip. This flavorful tea is perfect in recipes and on its own. Order your Bombay Chai Black Tea from Revolution Tea today!