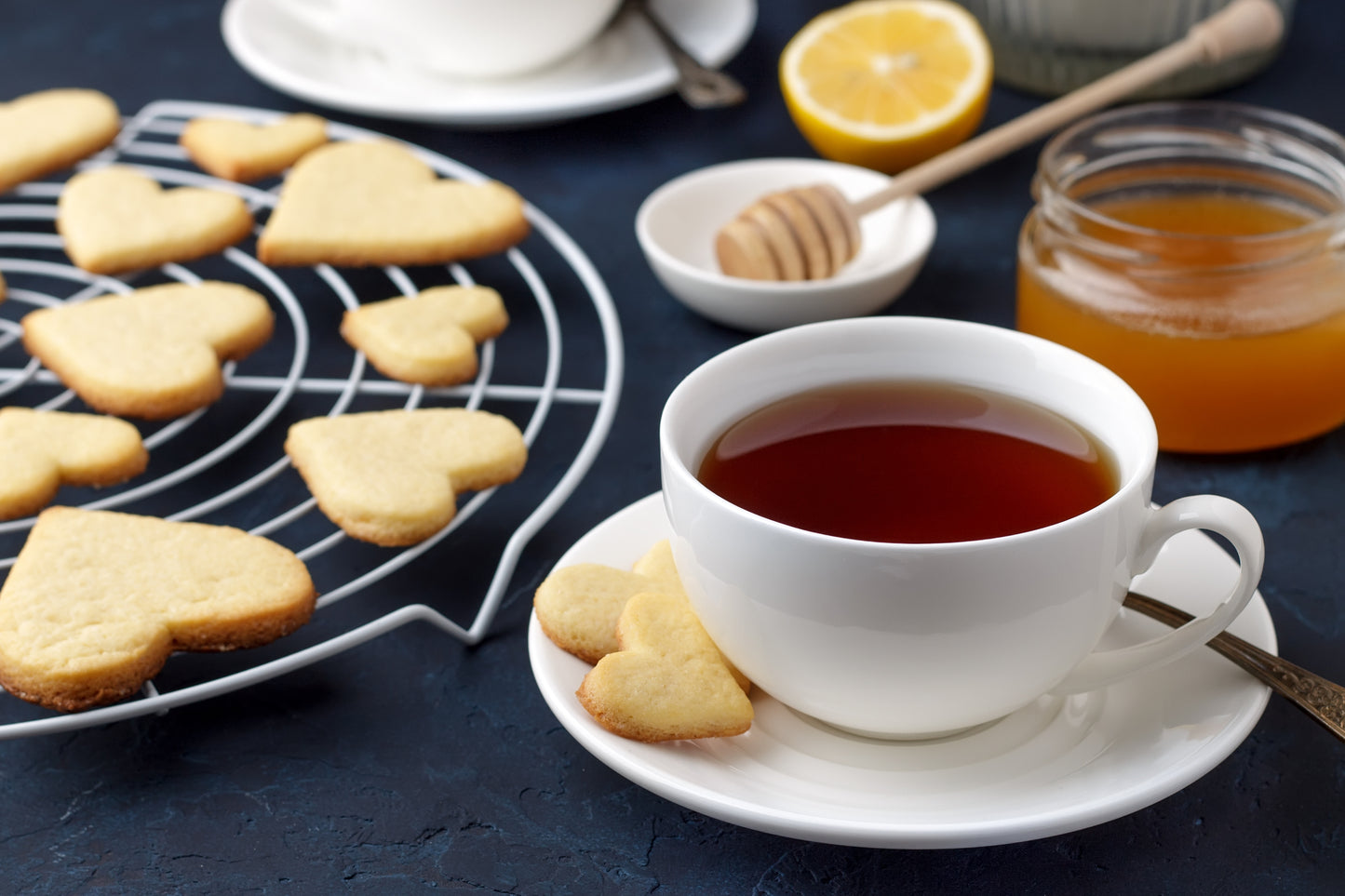 Valentine's Day is a great time to celebrate your relationship with your significant other, or any loved ones who are special to you. If you want to make something new, delicious, and fun to celebrate this Valentine's Day, you're in the right place! Check out this simple and tasty recipe for Valentine's day tea sugar cookies and enjoy. The recipe is quick and easy to make, and you're sure to want to make these delicious cookies again and again once you've given them a try.
What Tea Should I Use for My Valentine's Day Tea Sugar Cookies?
Great question! For these tea sugar cookies, we highly recommend Revolution Tea's Organic Green Rooibos Papaya Herbal Tea! This tea combines the savory boldness of rooibos with the ripe sweetness of papaya. This organic tea uses our "bio-cello" overwraps as well as a cornstarch-derived woven fabric bag, so each bag is eco-friendly and biodegradable, too!
Of course, once you've made these tea sugar cookies once, you're free to experiment. The tea is the primary flavoring in the cookies, so you can change the taste of these cookies quite a bit by trying new types of tea. You can shop our full selection online now, and get inspired to try something new! But without further ado, let's get on to the recipe.
Our Valentine's Day Tea Sugar Cookie Recipe:
Prep Time: 15-20 minutes
Cook Time: 10 minutes
Total time: 25-30 minutes
Ingredients
1 cup (2 sticks) of unsalted butter, room temperature or softened

½ cup white granulated sugar

¼ tsp salt

1 ½ cups AP (all-purpose) flour

1 tsp vanilla

5-7 bags of Organic Green Rooibos Papaya Herbal Tea
Instructions
Preheat the oven to 350° F and grease a cookie sheet.


Mix together the butter, white sugar, and vanilla in a mixing bowl or in a stand mixer until thoroughly combined.


Sift flour and salt together, and add them to the butter and sugar mixture, mixing until combined.


Cut open the bags and remove the tea from 5-7 bags of Organic Green Rooibos Papaya Herbal Tea. Grind them until they reach your desired texture. A fine grind is preferable for most. You can use a spice grinder, pestle & mortar, food processor, or any other appliance to grind the tea.


Add the ground tea to the cookie mixture and mix until combined. You may refrigerate the cookie mixture for up to 30 minutes to keep the cookies soft after baking.


Roll out the dough until it's flat. Use a ⅛ cup (2 tbsp) measuring cup spoon to cut out ½ inch wide cookies and place them on a greased cookie sheet. Allow plenty of space between each cookie to ensure they can expand as they bake.


Bake cookies for 9-10 minutes until the centers are fully cooked. The cookies should be pale gold in color. Avoid browning the top of the cookies.



Let the tea sugar cookies cool completely before serving. Serve on their own, or with your preferred tea or coffee, and enjoy!